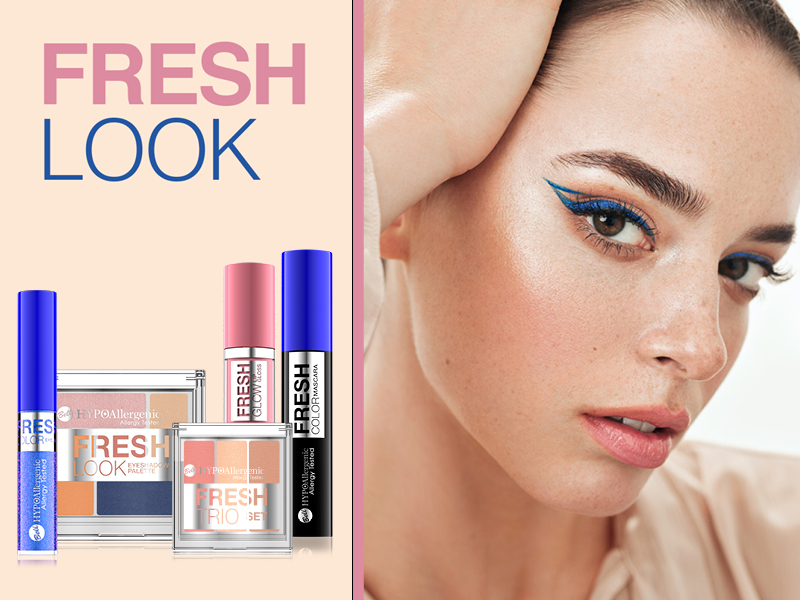 FRESH LOOK – A fresh look with the Bell Hypoallergenic vegan line
May 2020
For the upcoming season, Bell Hypoallergenic has prepared for its clients FRESH LOOK line –  a beautiful line of vegan color make-up cosmetics. Natural ingredients and extraordinary pigmentation, ideal for every skin tone, highlight your beauty and brighten the look of your eyes. This joyful line of color cosmetics is now available at bellsklep.com.pl and HEBE drugstores throughout Poland.
The line offers: 
Hypoallergenic Eyeshadow Palette FRESH LOOK EYESHADOW PALETTE – Shimmer formula of the eyeshadows revitalizes the look with pearly pigments. Special colors ideal for spring and summer in trendy shades. The eyeshadows can be used dry and wet, and also as a topper to illuminate matt eyeshadows.
Hypoallergenic Color Eyeliner with effects FRESH COLOR EYELINER – Trendy colors that fit every skin tone and emphasize the color of your iris. A formula with particles that brings the look of your eyes.
Hypoallergenic Color Mascara FRESH COLOR MASCARA – Highly pigmented formula and creamy texture. Ideal adhesion to eyelashes and full coverage with color. Trendy shades highlighting the color of your iris and fitting every skin tone.
Hypoallergenic multifunctional cheek set FRESH TRIO SET – Perfectly matching pastel shades. They can be applied in layers or combined for a fashionable contouring with color. The product offers a satin, slightly shiny finish and a long-lasting make-up. It is ideal for the draping technique, i.e. face modeling with blush.
Hypoallergenic vinyl lip gloss FRESH GLOW LIP GLOSS – A timeless nude color to match any skin tone with a finish that creates a watery effect on your lips. The lips look filled and smooth. A perfect complement to any make-up.