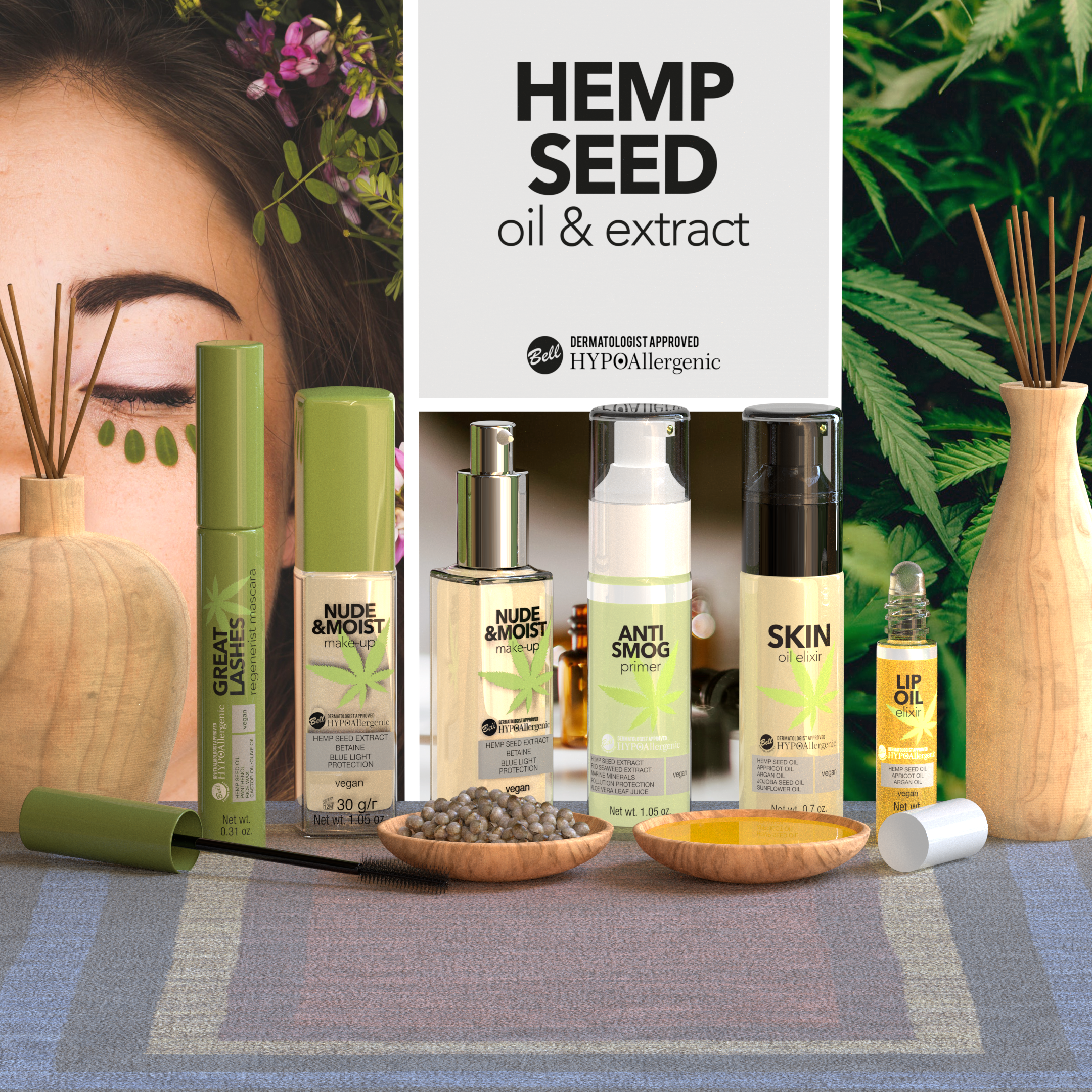 HEMP SEED is the first Polish line of color cosmetics containing hemp extract!
November 2019
Bell Hypoallergenic has prepared a unique series of make-up products for its clients. HEMP SEED is the first Polish line of color cosmetics containing hemp extract, thanks to which we can take even better care of our skin not only in the beauty salon but also by ourselves on a daily basis.
The line offers:
Moisturizing make-up primer oil – thanks to the mixture of five oils: hemp seed, apricot kernel, argan, jojoba and sunflower seeds, it moisturizes, regenerates and nourishes it perfectly. The formula rich in vitamins C and E has an antioxidant effect, slowing down the aging process of the skin and supporting its elasticity.
Regenerating mascara – lengthens and curls eyelashes, providing a expressive eye make-up. Nutrients contained in the formula such as hemp seed oil, panthenol, castor oil and olive oil nurture, moisturize and increase the elasticity of your lashes.
Anti-smog primer – an innovative formula of the primer containing hemp seed extract and aloe vera leaf juice intensively moisturizes your skin, improving its firmness and slowing down the ageing process. Thanks to the mineral-rich marine algae extract, it creates a protective barrier on the skin protecting it from pollution and harmful external factors.
Nourishing fluid – its formula contains hemp seed extract and being rich in vitamins, minerals and antioxidants it intensively moisturizes the skin, supports its elasticity and improves its overall functioning. Thanks to the melanin ingredient, it protects the skin against harmful effects of blue light emitted by phones, computers or TV sets. The product prevents the skin from aging, while its ingredient -natural betaine offers a moisturizing effect making the skin look silky smooth.
Regenerating lip oil – hemp seed, apricot seed and argan oils present in the composition of the product moisturize, nourish, soften and smooth your lips. As a result, they become regenerated and hydrated. The light texture of the product prevents it from sticking and offers a sensation of comfort.
All the products contain hemp oil and a series of other nutritional oils.
The whole line is 100% vegan.